Updating Windows is an important part of the maintenance tasks you should routinely carry out.
Using Windows update, Windows can automatically update important operating system files and Microsoft Security Essentials definitions. It can also update other Microsoft products such as Microsoft Office and software such as drivers.
Microsoft used to release updates as soon as they were ready but this led to updates being applied at any time and gave problems for system administrators having to constantly check if a particular patch was to be applied to their systems. They introduced "Patch Tuesday" (usually the second and sometimes the fourth Tuesday in each month) where major software updates are released in an attempt to negate the effect of this. Daily updates which consist of Microsoft Security Essentials definitions contine at frequent times during the day and important security updates are also sometimes released outside Patch Tuesday.
The fact that by default, Windows checks for updates and installs them isn't in itself a guarantee that it is actually happening. You should periodically check for yourself just to make sure that everything is in order. This is an easy task and should only take a couple of minutes.
Click  (the start button).

Click the Settings menu item.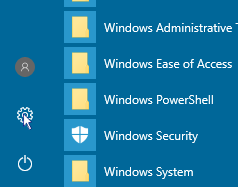 Click  (the start button).

On the start menu, click Settings.

If Settings doesn't appear on the Start Menu, click All apps, then scroll down to Settings.
On the System page, at the bottom left, click Windows Update.

You should repeat the above until you can click Check for updates and Windows reports that it is Up to date.
Once Windows is updated, you will see there are some settings you can play about with such as changing the active hours; advanced options etc. Using these settings is beyond the scope of this basic guide but suffice to say the instructions above are all you need to ensure the operating system is kept up‑to‑date and running smoothly.
Note that Windows update will only update the operating system and (if set) other Microsoft software. If you have other programs installed, which is more than likely, you should also open those programs periodically and read the product information or look on the menus for "Update" to ensure they are also kept up‑to‑date.
Microsoft support for Windows 7, Windows 8 and Windows 8.1 ended some time ago and support for Windows 10 will end at some point, so, unless you have an extended support contract (which is highly unlikely), you will no longer be able to get security or software updates using Windows update. You should upgrade to Windows 11 now.
Read more about Windows update on the Microsoft website. If Windows update has stopped working or you have any other problems with your computer, you can always contact us for details of our support services.